Content marketing is a strategic marketing approach that involves the creation and distribution of valuable, relevant, and consistent content to attract and retain a clearly defined audience. It focuses on providing information and addressing the audience's needs, ultimately driving profitable customer action. In today's digital age, content marketing has become an essential tool for businesses to establish their online presence and connect with their target market.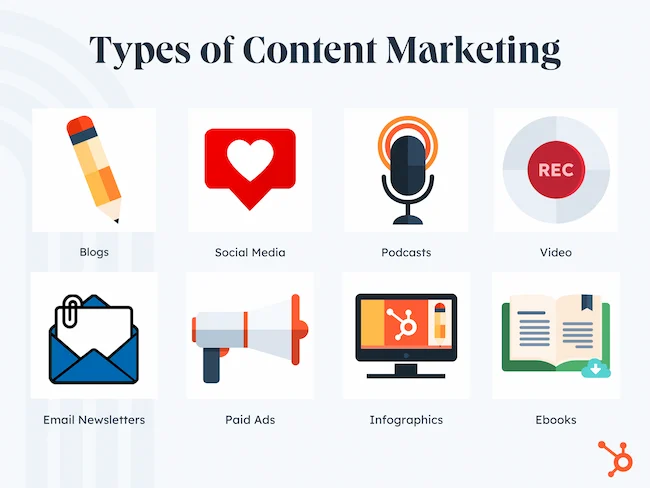 Table of Contents
II. Types of Content Marketing
A. Blogging and Article Writing
Creating Informative and Engaging Blog Posts
Blogging plays a crucial role in content marketing as it allows businesses to share valuable information, industry insights, and updates with their audience. Informative and engaging blog posts help establish credibility and thought leadership within a specific niche. By utilizing uncommon terminology and in-depth analysis, businesses can create unique and compelling content that keeps readers coming back for more.
Developing In-Depth Articles for Thought Leadership
In addition to blogging, businesses can also create more comprehensive articles to position themselves as thought leaders. These articles delve deep into specific subjects, providing readers with expert knowledge, fresh perspectives, and actionable insights. By offering unique and detailed content, businesses can build trust and establish themselves as go-to sources within their industry.
B. Social Media Marketing
Leveraging Popular Social Media Platforms for Content Dissemination
Social media platforms such as Facebook, Twitter, and Instagram are powerful tools for content marketing. They provide businesses with the opportunity to reach a vast audience and share their content across various channels. By employing conversational writing styles and crafting engaging captions, businesses can effectively captivate their followers and encourage them to share the content with their networks.
Crafting Shareable and Compelling Social Media Posts
Creating engaging social media posts is crucial for content marketing success. Short and snappy sentences, paired with captivating visuals or videos, can grab the audience's attention and prompt them to take action. Utilizing unique terminology and conversational tones, businesses can effectively communicate their message, encourage engagement, and ultimately drive traffic to their website or other desired actions.
C. Video Marketing
Utilizing Videos to Engage and Educate the Audience
Videos have become an increasingly popular medium for content marketing due to their ability to engage and educate the audience effectively. Through storytelling and visually appealing content, businesses can convey their message in a memorable way. Short and long sentences can be interspersed to maintain audience interest, while uncommon terminology can add originality to the video content.
Platforms and Content Creation Techniques for Video Marketing
Various platforms like YouTube, Vimeo, and social media sites provide businesses with channels to distribute video content. Businesses can optimize videos by utilizing proper tagging, keyword optimization, and incorporating unique terminologies. Additionally, employing editing techniques and visual effects can enhance the overall quality and appeal of video content, attracting a wider audience.
D. Infographics and Visual Content
Creating Visually Appealing and Informative Graphics
Infographics are an innovative approach to content marketing, combining visually appealing designs with informative content. By utilizing uncommon terminology and creative visual elements, businesses can present complex data or concepts in a visually stimulating and easy-to-understand manner. Infographics have a higher likelihood of being shared, thereby increasing brand awareness and driving website traffic.
Exploring the Effectiveness of Infographics in Content Marketing
Infographics are highly effective in content marketing due to their ability to capture and hold audience attention. Their engaging and visually appealing nature helps in conveying information quickly and easily. By incorporating unique terminology, businesses can further boost the originality and impact of their infographics, solidifying their position as experts in their field.
E. Email Marketing
Crafting Captivating Email Campaigns
Email marketing is an integral part of content marketing that allows businesses to directly communicate with their audience. By incorporating a friendly tone, conversational language, and unique phrasing, businesses can craft captivating email campaigns. These personalized messages should provide valuable content, addressing the audience's pain points and offering tailored solutions.
Enhancing Customer Engagement through Personalized Content
Personalization is key in email marketing. By utilizing data and segmentation, businesses can create highly targeted content that speaks directly to their audience's needs and interests. Incorporating uncommon terminology and engaging narratives can further enhance customer engagement, encouraging clicks, and driving conversions.
III. Advantages of Content Marketing
A. Building Brand Awareness
Expanding Reach and Visibility through Content Dissemination
Content marketing allows businesses to expand their reach and visibility by sharing valuable content through various channels. By consistently creating and distributing content, businesses can increase their brand awareness, reaching new audiences and building a loyal following. Unique terminology and conversational writing styles can differentiate the brand, making it memorable and recognizable.
Establishing Brand Authority with Valuable and Relevant Content
Creating valuable and relevant content positions a business as an authority within its industry. By utilizing uncommon terminology and in-depth analyses, businesses can impart knowledge and expertise, gaining the trust and respect of their audience. Establishing brand authority not only improves brand perception but also drives customer loyalty and attracts potential customers.
B. Increasing Website Traffic
Driving Organic Traffic through Content Optimization
Content marketing plays a vital role in driving organic traffic to a business's website. By optimizing content for search engines, businesses can improve their search engine rankings and attract more visitors. Incorporating proper SEO techniques, including keyword research, metadata optimization, and backlinking, can boost the visibility of the content, resulting in increased website traffic.
Utilizing SEO Techniques for Improved Search Rankings
Employing SEO techniques such as keyword optimization and on-page SEO can significantly impact a business's search rankings. Businesses should strive to create content that aligns with search intent and incorporates uncommon terminology and phrases that resonate with their target audience. By doing so, they can increase organic traffic and attract relevant visitors to their website.
C. Lead Generation and Conversion
Engaging and Nurturing Leads through Compelling Content
Creating compelling and informative content can help businesses attract quality leads. By incorporating uncommon terminology and offering valuable insights, businesses can capture the attention of their target audience. Through lead nurturing techniques such as personalized email campaigns and targeted content, businesses can build strong relationships with their leads, guiding them towards conversion.
Strategies for Converting Leads into Paying Customers
To convert leads into paying customers, businesses need to employ effective conversion strategies. This involves providing the right content at the right stage of the customer journey, employing persuasive language, and utilizing uncommon terminology to highlight the unique benefits of their products or services. By delivering tailored content, businesses can convince leads to make the final purchase decision.
D. Fostering Customer Loyalty
Maintaining Customer Satisfaction through Tailored Content
Content marketing allows businesses to maintain customer satisfaction by consistently delivering valuable and tailored content. By utilizing uncommon terminology and personalized messaging, businesses can ensure that their content resonates with the specific needs and interests of their customers. This ultimately fosters long-term customer loyalty and advocacy.
Promoting Brand Loyalty through Consistent and Valuable Content
Consistency is key in content marketing to promote brand loyalty. By delivering valuable content consistently, businesses can keep their audience engaged and loyal. Using a conversational and friendly tone, paired with unique terminology, businesses can further reinforce their brand image and cultivate a strong sense of loyalty among their customers.
IV. Limitations of Content Marketing
A. Time-Intensive Nature
Content Creation and Planning Require Substantial Time Investments
Creating high-quality content takes time and effort. Researching, brainstorming, and writing require an investment of resources to ensure that the content is valuable and original. Businesses must dedicate ample time to plan and execute content marketing strategies to achieve desired results.
Sustaining Consistency in Content Production Schedules
Consistency is crucial in content marketing. Maintaining a regular publishing schedule can be challenging, as businesses must consistently generate fresh and engaging content. It can be time-consuming to consistently create content that meets high standards, but doing so is essential to keep audiences engaged and build brand credibility.
B. Development and Maintenance Costs
Allocating Resources for Quality Content Development
Developing quality content often requires substantial resources. Businesses may need to invest in professional copywriters, graphic designers, or video producers to create engaging content. Additionally, acquiring software or tools to support content creation and distribution may incur additional costs. Allocating adequate resources is crucial to generate content that stands out from the competition.
Tools and Technologies for Content Creation and Distribution
Various tools and technologies are available to aid in content creation and distribution. These tools, while helpful, may come at a cost. Businesses need to evaluate their budget and choose the most suitable tools to enhance their content marketing efforts. Investing in these technologies can improve efficiency and effectiveness, leading to better content results.
C. Content Saturation and Competition
The Challenge of Standing Out Amidst Vast Content Availability
The digital landscape is flooded with content, making it challenging for businesses to distinguish themselves. Standing out amidst this content saturation requires unique and innovative approaches. Utilizing uncommon terminology, creative storytelling, and original visuals can help businesses capture the audience's attention and differentiate themselves from competitors.
Overcoming the Competition for Audience Attention
Competition for audience attention is fierce in content marketing. Businesses must continuously strive to engage their audience through various content marketing tactics. Tailoring content to the specific needs and interests of the target audience, along with utilizing conversational writing styles and unique terminology, can help businesses break through the noise and capture audience attention.
D. Metrics and Measuring Success
Evaluating the Effectiveness of Content Marketing Campaigns
Measuring the effectiveness of content marketing campaigns is essential to assess their impact and make data-driven decisions. Businesses must track key performance indicators (KPIs) such as engagement metrics, website traffic, conversion rates, and ROI. Regular evaluation allows businesses to identify successful strategies and areas for improvement, ensuring continuous growth and success.
Identifying Key Performance Indicators and Measuring ROI
Determining the right KPIs and measuring return on investment (ROI) can be challenging in content marketing. Businesses need to align their KPIs with their overall marketing objectives and goals. Incorporating analytical tools to monitor website traffic, social media engagement, and conversion rates can provide valuable insights for measuring the success of content marketing efforts.
V. Conclusion
A. Recap of the Advantages and Limitations of Content Marketing
Content marketing is a powerful strategy that offers numerous advantages, including building brand awareness, driving website traffic, generating leads, and fostering customer loyalty. However, it also comes with its limitations, such as the time-intensive nature, development costs, content saturation, and the need to measure success effectively. By understanding both the benefits and limitations, businesses can develop a strategic approach to maximize the benefits and overcome the challenges of content marketing.
B. Importance of a Strategic Approach to Maximize Benefits and Mitigate Challenges
To harness the full potential of content marketing, businesses should adopt a strategic approach. This involves setting clear objectives, identifying target audiences, researching keywords, utilizing unique terminology, and creating valuable and tailored content consistently. By developing a comprehensive content marketing strategy, businesses can effectively leverage the advantages while mitigating the limitations, achieving long-term success.
VI. FAQs (Frequently Asked Questions)
A. What is the Best Type of Content Marketing for My Business?
The best type of content marketing for a business depends on various factors, including the target audience, industry, and marketing goals. It's recommended to incorporate a mix of content types such as blogging, social media marketing, videos, infographics, and email marketing. Tailoring the content to the specific needs and preferences of the target audience can help determine the most effective content marketing approach.
B. How Can I Measure the Effectiveness of My Content Marketing Efforts?
Measuring the effectiveness of content marketing efforts can be done through various metrics and indicators. Key performance indicators (KPIs) such as website traffic, social media engagement, conversion rates, and ROI can provide insights into the success of content marketing campaigns. Utilizing analytical tools and regularly tracking these metrics will help assess the impact of content marketing efforts and identify areas for improvement.
C. Are There Any Alternatives to Content Marketing That Can Yield Similar Results?
While content marketing is highly effective, there are alternative marketing approaches that can yield similar results depending on the business and its target audience. These alternatives may include influencer marketing, search engine marketing, social media advertising, email campaigns, and public relations. It's crucial to consider the specific objectives and budget of the business when exploring alternative marketing strategies.
D. How Often Should I Produce New Content for My Marketing Strategy?
The frequency of producing new content will depend on the business's resources, goals, and the target audience's preferences. Consistency is important in content marketing, but it's equally crucial to maintain high-quality content. While some businesses may publish new content daily, others may opt for a weekly or monthly schedule. It's essential to assess audience engagement, measure results, and adapt the content production frequency accordingly.
E. What Are Some Common Mistakes to Avoid in Content Marketing?
Common mistakes to avoid in content marketing include inconsistent publishing schedules, lack of originality, neglecting audience preferences, and failing to measure results. Additionally, businesses should avoid over-promotion, excessive use of jargon, and neglecting search engine optimization techniques. By addressing these common mistakes and focusing on providing valuable and unique content, businesses can maximize the effectiveness of their content marketing efforts.