Case study of York Innovations
York Innovations is an exceptional recruitment agency that has been serving various industries in the USA for over a decade. The agency has an outstanding reputation for providing excellent recruitment services, which makes it a preferred choice for many businesses seeking top talent.
At York Innovations, we understand that the changing nature of work and job seekers' expectations presents significant challenges for our clients. Therefore, we have invested in innovative web designing strategies to make the recruitment process smoother, more efficient, and elevate your candidate's experience.
Despite fierce competition in the recruitment industry, our connection with clients and candidates remains strong. We are proud of our reputation for delivering exceptional recruitment services that distinguish us from other agencies across the USA.
The pandemic outbreak has undoubtedly rendered an uncertain environment but adapting to the changing times is our forte. We have been working tirelessly to assist our clients in hiring the right talent amid these challenging times.
We pride ourselves on our commitment to innovative web designing and adaptability, which has helped maintain our position as a leading recruitment agency in the USA. Our services bring value to businesses and job seekers alike.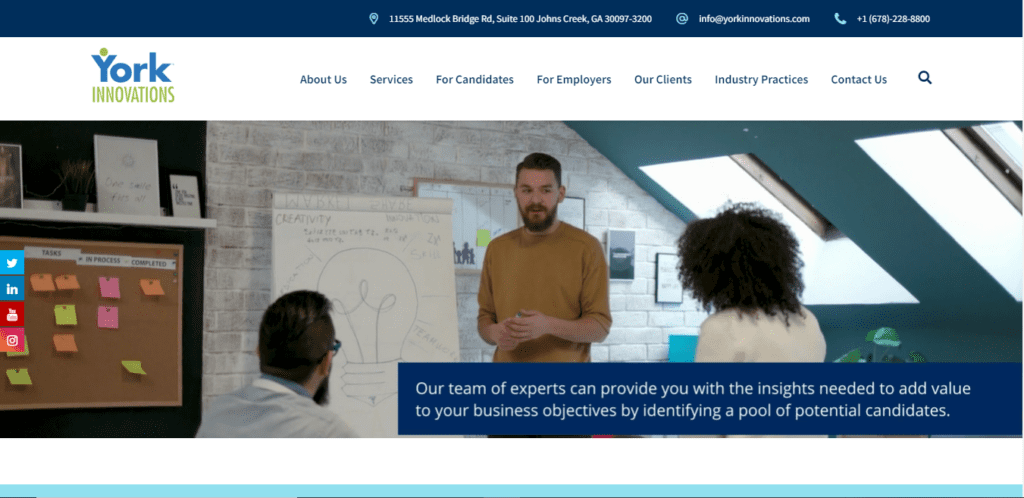 York Innovations is a leading manpower recruitment agency that specializes in providing end-to-end HR solutions across various industries. The company has built a remarkable reputation over the years, but with the continuous emergence of recruitment agencies offering similar services, it has become challenging to attract new clients and retain existing ones. To achieve its business objectives, York Innovations has revamped its digital marketing strategy, which has proven to be a viable solution.

To bolster its online reach and visibility, York Innovations has partnered with a renowned digital marketing agency that uses several digital marketing techniques such as social media marketing, pay-per-click campaigns, and search engine optimization. The initiative has facilitated the creation of increased website traffic, better search engine rankings, and more engagement and followers on social media platforms.

However, due to the complexity of digital marketing initiatives and the constant changes that occur in the industry, York Innovations faces various challenges. One significant issue is the lack of skilled resources to manage these digital marketing efforts. To tackle this challenge, York Innovations has undertaken intense training and development programs to upgrade the skills of its current employees and has also hired new resources with a digital marketing background. These initiatives are proof that York Innovations is committed to staying ahead of the competition and providing top-notch services to its clients.